We have put together our top veterinarian recommendations for best shampoo for golden retrievers. With so many options for dog shampoos available, it can be hard to decide what type to purchase for your dog. Knowing the needs and sensitivities of your dog and its coat, you can use our detailed list of shampoos below to help you identify the best shampoo for your Golden Retriever.
TropiClean Papaya and Coconut Luxury 2-in-1 Pet Shampoo and Conditioner is our top pick for a few reasons.
Cleans, conditions, and deodorizes very well
Relaxes tangled fur for easier brushing
Great for dry, itchy, and sensitive skinned dogs
Not only does it do all of the above very well, but it comes in a 1 gallon container that is economical. This option combines most of the other options selling points into one product. However, if TropiClean is not for you, then read on for the rest of the best dog shampoos for Golden Retrievers.
Best Dog Shampoo for Golden Retrievers
There are different variations of dog shampoos you could use when bathing a Golden Retriever. They include standard, hypoallergenic, organic, odor control, healing, waterless, and anti-itch. Below are our top picks of each type and the best options on the market for dog shampoo for golden retrievers .
Overall Best Shampoo for Golden Retrievers: TropiClean Luxury Shampoo & Conditioner
TropiClean Papaya and Coconut Luxury 2-in-1 Pet Shampoo and Conditioner is the best overall option for bathing your Golden Retriever. As stated above, it offers many of the options that other shampoos on the list offer, all in one package.
It is made in the U.S.A. from naturally derived ingredients. So it is safe and great for any dog.
*As a bonus, it also comes in a one gallon container that is diluted to make 16 gallons of shampoo… and has a GREAT price!
---
Best All-In-One Shampoo for Golden Retrievers: Paws & Pals 5-In-1 Oatmeal Dog Shampoo
The Paws & Pals 5-In-1 Oatmeal Dog Shampoo has almost every benefit of a dog shampoo that you can think of, which makes it a great staple to have on hand during bath time. This shampoo contains premium ingredients that clean, detangle, moisturize, condition, relieve itching, and reduce odor to leave your dog smelling fresh.
This veterinarian-recommended shampoo contains not only medicated ingredients but essential oils that will enhance your dog's coat. Oatmeal, one of the critical ingredients, is known to relieve allergy symptoms, reduce hot spots, help with dry skin, and soften a dog's coat.
This shampoo is also tear-free, which protects your dog from eye, nose, or paw irritation and provides a more joyful bath time experience.
You can get all these great benefits in a 20 oz. bottle for a very low price. If you are unsure of what shampoo to try for your Golden Retriever, this is a great one to start with. Your dog will be clean, feel soft, and smell great!
---
Best Organic & Hypoallergenic Shampoo for Golden Retrievers: Pro Pet Works All Natural & Organic Oatmeal Shampoo
Golden Retrievers are among one of the more common breeds of dogs to develop skin allergies. Because of their increased risk based on genetic disposition, environmental reactions, or the possibility of developing food allergies, having a hypoallergenic, natural, and organic shampoo like Pro Pet Works for your Golden Retriever is a good idea.
Veterinarians have created this shampoo formula specifically for pets with allergies to flea bites, grass, and food. The shampoo contains all-natural and organic ingredients with no sulfates, parabens, alcohol, coloring, fragrance, or other harsh chemicals. They have also added aloe, almond oil, and vitamins A, D, and E to make bath time more soothing for your dog. At the end of the bath, your dog will have a soft, fresh, and clean coat.
Since it is designed to treat dog allergies and has organic ingredients, this shampoo is a little more costly than others on our list. Its price range is about $17 to $18 for a 17 oz. bottle. If you are not sure if you want to spend the money on this type of shampoo for your Golden Retriever, relax and know that you can give it a try and get all your money back if you are not satisfied.
---
Best Budget Shampoo for Golden Retrievers: Burt's Bees for Dogs
If you want to be consistent and use only one type of shampoo for your golden retriever that won't break the bank but will get the job done, then Burt's Bees All Natural Oatmeal Shampoo is the one to use. This shampoo cleans, moisturizes, soothes, and softens your dog's skin and coat with sulfate and paraben-free ingredients.
This shampoo is made with gentle ingredients that can be used on sensitive skin, which also makes it safe for puppies as well. It is designed to be tear-free, but do your best to avoid getting it into your dog's eyes when scrubbing and washing. 
If you want your Golden Retriever's coat to feel clean and soft, then this shampoo is a great one to have. It costs around $5 to $7 for a 16 oz. bottle, which is a great price compared to some of the other well-rated dog shampoo brands we will discuss next.
---
Best Odor Control Shampoo for Golden Retrievers: Nature's Miracle Supreme Odor Control Shampoo
Golden Retrievers, like many other dogs, have water-resistant coats and oil on their hairs that can cause them to smell. If you are in search of a shampoo for golden retrievers that will significantly minimize these unpleasant odors, then Nature's Miracle Supreme Odor Control is the shampoo for you.
This Nature's Miracle shampoo is made with ingredients that provide long-lasting odor control. This shampoo has four benefits in one bottle, which include deodorizing, neutralizing odors, cleaning your dog's skin and fur, and conditioning. Like many of the other shampoos for golden retrievers listed, there are no dyes, soaps, or parabens in the formula.
A great addition to this shampoo is the honey sage scent that contains oatmeal to soothe and hydrate your dog's skin. Listed right on the back of the bottle are these benefits of its natural cocoa surfactant:
Cleans and conditions thoroughly
Softens hair
Hair stays cleaner longer
Reduces static electricity
Works to maintain the essential oils on your dog's skin
This shampoo is also budget-friendly. It comes in a large bottle, size 32 oz. that ranges from $12 to $16.
---
Best Healing Shampoo for Golden Retrievers: Veterinary Formula Clinical Care Medicated Dog Shampoo
Golden Retrievers have a dense undercoat of hair hidden beneath their longer outer coat, which makes them more susceptible to the development of skin diseases. Bacteria, mold, fleas, parasites, fungus, and more can get trapped and hidden within a Golden Retrievers furry coat.
A great way to treat your Golden Retriever's inflamed skin is by using a medicated cleansing shampoo such as Veterinary Formula Clinical Care's Medicated Shampoo. This shampoo contains ingredients that treat skin scaling, hydrate the skin, promote healing, relieve parasite infections, and remove fungus and bacteria. This shampoo is known for its fast-acting formula that also heals rashes, bald spots, and dry, itchy skin.
This medical shampoo is very budget-friendly, costing between $8 to $12 for a 16 oz. bottle. Veterinary Formula works to provide quality medical ingredients at an affordable price for pet owners. You will want to use the shampoo only a couple times a week initially and then reduce the amount as symptoms get better, allowing your dog's skin to stay hydrated and healthy.
---
Best Waterless, No Rinse Shampoo for Golden Retrievers: Wahl Pet-Friendly Waterless No Rinse Shampoo
When you don't have the convenience of being able to wash your dog with water, having Wahl's Pet-Friendly Waterless No Rinse Shampoo is essential. This shampoo leaves your dog clean and smelling fresh without having to use any water. Simply scrub the shampoo into your Golden Retriever's coat, dry your dog off with a towel, then brush its coat thoroughly.
This shampoo will moisturize your dog's skin and detangle its hair. Ingredients found in this shampoo are paraben-free, alcohol-free, and plant-based with no harsh chemicals. If your Golden Retriever likes to avoid bath time at all costs, do not hesitate to try this waterless, no-rinse shampoo. A 7 oz. bottle ranges from $4 to $6 and is backed with a money-back guarantee offer.
---
Best Shampoo for Golden Retrievers to Reduce Shedding: FURminator deShedding Ultra-Premium Dog Shampoo
Golden Retrievers are known for continually shedding. If your Golden Retriever sheds excessively, then give the FURminator deShedding Ultra-Premium Dog Shampoo a try. This shampoo is specifically targeted to reduce the amount of shedding in dogs like Golden Retrievers.
While this shampoo works to reduce shedding, it also moisturizes your dog's skin and fur. It contains Omega 3 and 6 fatty acids that will get your dog clean and smelling fresh.
There are no parabens or dyes in the ingredients that would harm your dog.  To get the best results from this shampoo, you will want to let it sit on your dog's hair and skin for 5 to 10 minutes after lathering and before rinsing. You can purchase a 16 oz. bottle for about $8 and be off bathing your dog in no time.
Best Puppy Shampoo for Golden Retrievers
While many of the above shampoos would work great for your Golden puppy, below are a couple options that we recommend if you are looking for something specifically for a puppy.
Best Overall Shampoo for Golden Retriever Puppies: Pet's Oatmeal Anti-Itch Shampoo & Conditioner
The benefits of using Pet's Oatmeal Anti-Itch Shampoo & Conditioner for your puppy seem endless. This shampoo contains all-natural ingredients that are safe for dogs of all ages. It provides relief for allergies with an added hypoallergenic lotion, which contains antifungal and antibacterial ingredients that work to reduce flea yeast.  This shampoo is gentle on a dog's sensitive skin and hair and provides instant itch relief and moisturizes dry, irritated skin.
Not only do the ingredients in this shampoo smell great, but they also keep odors away for extended periods. These plant-based ingredients are also safe to come in contact with your puppy's nose and paws. Do not hesitate to get a 17 oz. bottle, which costs around $17, for your puppy today.
---
Best Sensitive Shampoo for Golden Retriever Puppies: Burt's Bees for Puppies Natural Tearless 2 in 1 Shampoo and Conditioner
Burt's Bees for Puppies is a 2 in 1 Shampoo that will soften, soothe, clean, and condition your puppy's fur and skin with its natural ingredients like buttermilk and linseed oil. The mild and natural ingredients in this puppy shampoo make it safe for dogs of all ages and help prevent irritation to the eyes, nose, and paws.
There are no harsh chemicals, colorants, or fragrances, which make it completely safe and well recommended by veterinarians. This fantastic all-purpose shampoo for puppies comes in a 16 oz. bottle and costs between $5 and $12.
Factors to Consider When Choosing a Shampoo for Golden Retrievers
When it comes to choosing the right shampoo for your golden retriever, there are several factors to consider. One of the most important factors is pH balance, as a shampoo with the wrong pH can dry out your golden's skin and coat. Look for shampoos that are specifically formulated for dogs and have a pH level between 6.5 and 7.5. You should also consider the ingredients in the shampoo, as some dogs may have sensitivities or allergies to certain ingredients. For golden retrievers, it's best to choose a shampoo that contains natural ingredients, such as oatmeal, aloe vera, and chamomile, to help soothe their skin and maintain their coat's natural oils. Finally, consider the scent of the shampoo, as you don't want to choose a shampoo that is too overpowering and may cause your golden to itch or sneeze.
How Often Should You Bathe A Golden Retriever?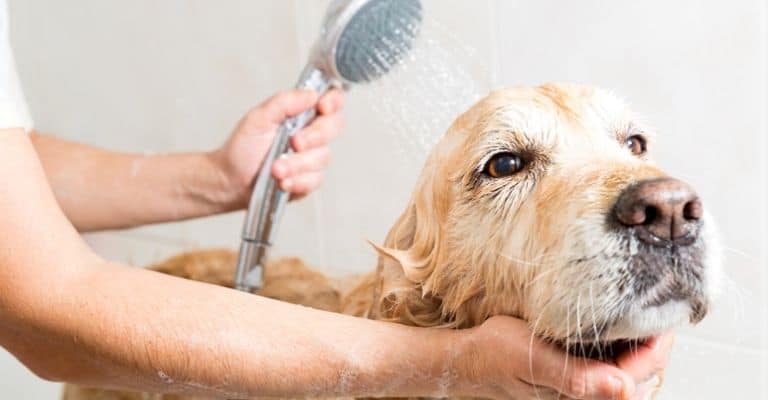 As mentioned before, Golden Retrievers have a double coat that will easily trap unwanted dirt, smells, pests, sweat, and more. To keep your dog clean and smelling fresh, you will want to bathe and groom it frequently. A Golden Retriever can be bathed as often as once a week, but shouldn't go longer than six weeks without a bath.
The number of baths you give your dog should be based on its activity level, skin sensitivity, allergies, and hair length. For example, if your Golden Retriever has more sensitive skin, bathing your dog too frequently can lead to skin dryness and irritation. So if you find your dog has these symptoms, try reducing the frequency of baths and introducing a moisturized shampoo.
Having the right shampoo for your dog will allow it to stay cleaner and smell fresh longer. Keep in mind that grooming your dog's coat goes hand-in-hand with baths.
Tips for Bathing a Golden Retriever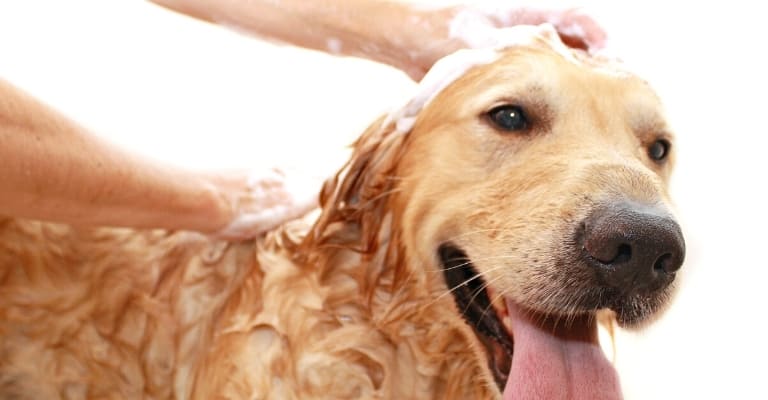 When bathing a Golden Retriever, you want the experience to be both enjoyable for you and your dog. Below are some brief tips to help the process go smoothly. For a more in-depth look, read our article How to Bathe a Golden Retriever.
Have the right type of shampoo for your dog's skin and fur.

Picking the right type of shampoo will keep your dog's skin healthy and allow you to avoid allergic reactions. Sample a few different types at first until you find the one best for your dog.

Brush your dog before the bath.

You will want to prep your dog before each bath by brushing away excess fur and removing tangles.

Be consistent.

Just like children, dogs will feel more comfortable in a familiar place with an established routine. Use the same bathtub or area of the yard each time you bathe your dog.

Have everything with you.

The last thing you want to do is get your dog watered down and then realize you are missing an essential bath time item. Make sure you have everything you need before you start, so you never have to leave your dog unattended.

Be sure to have a comfortable water temperature.

Select a water temperature that is comfortable for your dog. It may be tempting to use cold water, but treat your dog like a child and provide it with the right water temperature. Warmer water will also do a better job at cleaning than cold water.

Follow the directions on the shampoo bottle.

Each type of shampoo is different. Some are tear-free and safe for eyes, paws, and nose; others are not. The shampoo bottle will tell you how to lather, scrub, and rinse your dog to get the best results possible.

Dry your dog.

After each bath, you should dry your dog with a towel or blow dryer rather than letting it air dry. This will keep it warmer and reduce the amount of water that drips or is shaken off.
Do Golden Retrievers Need a Conditioner?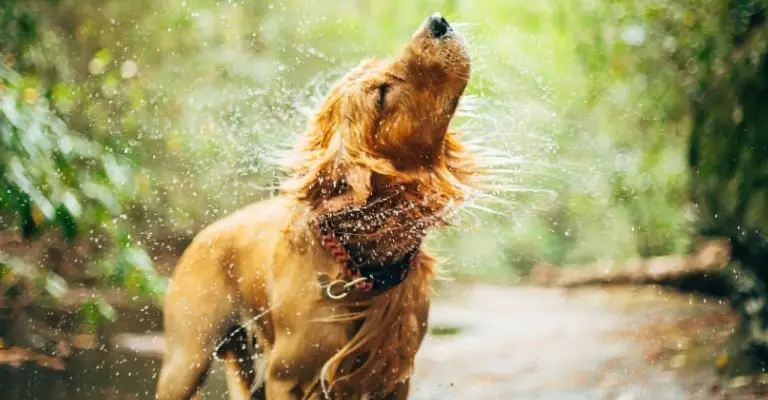 The question of whether to use a conditioner on a Golden Retriever is a common one. Lots of great shampoo products include some conditioning elements in their formula, so if you are unsure if you want to use a pure conditioner, this might be an excellent way to go. Also, if you are using a high-quality shampoo for your dog, then using a conditioner might not even be necessary.
If you decide to use one, there are several benefits to using a dog conditioner. Conditioners can moisturize your dog's skin and produce a shiny, detangled coat. You do not always need to apply conditioner right after shampooing your dog. You can use it in between bath time to help maintain your dog's coat and reduce its smell.
There can be some adverse effects when using a conditioner on your dog. If you see any of these symptoms, then stop using the conditioner and just wash with shampoo. Some symptoms might include skin irritation, weakened hair shafts, or trapped dirt after applying the conditioner.
Do not attempt to use a human conditioner on your dog. A dog has different pH levels than a human does, so using a human conditioner with added fragrances could irritate your dog's skin. When it comes to washing your dog, always try to use dog-specific products.
Tips on Reducing Odor?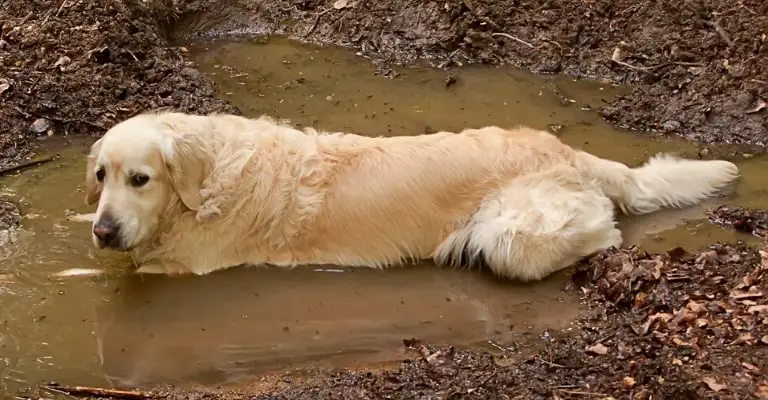 Having a good dog shampoo will make a tremendous impact on the health of your dog's coat. It will also help significantly in reducing its unpleasant odors; however, a good shampoo is not the only thing needed to keep a dog smelling fresh with a healthy coat.
Here are some steps you can take to reduce a dog's odor:
Try to figure out what is causing the smell and do what you can to solve that problem.
Test out different shampoos for your dog until you find one that keeps it smelling fresh longer.
Increase grooming.
Brush your dog's teeth frequently.
Wash its bedding weekly.
Try changing your dog's food to a new variety to see if that helps with its smell.
For more information on solving your dogs odor problems, see our article Do Golden Retrievers Smell.
Common Mistakes to Avoid When Bathing Your Golden Retriever
Bathing your golden retriever may seem like a simple task, but there are several common mistakes that you should avoid. One mistake is not brushing your golden before the bath, as this can lead to tangles and mats in their coat. It's also important to avoid getting water in your golden's ears, as this can lead to ear infections. To prevent this, place a cotton ball in each ear and remove them once the bath is complete. Another mistake is using too much shampoo, as this can be difficult to rinse out completely and may leave residue on your golden's coat. Use only the recommended amount of shampoo, and make sure to rinse thoroughly. Finally, avoid using a blow dryer on high heat, as this can cause your golden's coat to become dry and brittle. Instead, use a low heat setting or let them air dry.
Conclusion
Bath time can be a fun or frustrating experience depending on your Golden Retriever, but either way, it is necessary to keep your dog's skin and fur healthy and smelling fresh. Because there are so many different dog shampoos on the market, try out a few different ones recommended in this article that you think will meet the needs of your dog.
Once you find the one you like, stick with that shampoo to provide your dog with a healthy coat of fur. Remember always to avoid using human products. Use a dog conditioner if you feel it is necessary, or select a shampoo that has conditioner added. 
To learn more about caring for your Golden Retrievers coat, you can read our article Golden Retriever Coat Care. Or, if you are more interested in different options for dog brushes, check out our article Best Dog Brushes for Golden Retrievers.