As sweet and charming as your Golden Retriever may be, if there is one thing you can't escape from it is the relentless shedding.
Golden Retrievers are known for constantly shedding throughout the year, with two major shedding seasons- otherwise known as molting- in the spring and fall. As a Golden Retriever owner, you need to be prepared to take on the hairy challenge with the right brushes.
Due to its versatility, we have chosen the Horicon Pet Premium Dog Brush Set as our top pick. This is primarily due to the fact it can do everything. There are better brushes for each job, but if you are limited by budget, this kit can do the job well.
If you have the budget though, we suggest getting a brush that specializes in each task that is needed in Golden Retriever grooming.
Below we list our picks for the top brushes for grooming your Golden's fur, and keeping their coat healthy and looking great!
Best Dog Brushes
There are four different types of brushes to include in your Golden Retriever grooming kit, including a slicker, de-shedding, de-matting, and combination brush. Each brush does a different job.
Here are our top 5 picks, along with 2 top choices for puppies:
Best Overall Brush: Horicon Pet Premium Dog Brush Set
If you are limited on budget, be sure to get a kit that can do it all. The Horicon Pet Premium Dog Brush Set is perfect for day-to-day brushing. The all-purpose kit can rake through any mat that stands in its way, while the comb can cut through tangles. Together, this set keeps your dog's coat looking fresh, clean, and healthy.
You will love how easy this kit is to use. They have combined all of the most commonly used brushing and de-matting tools into one high quality, compact kit. Their detachable brush heads and tools are made with a patented locking design that works with the included comfortable and ergonomic handle.
If you don't own any brushes and you need to take care of your dog's coat, then this is a kit to keep on hand. It is moderately priced, and a steal considering it's a tool you can use every day and find plenty of relief from excessive shedding.
---
Best Slicker: The Pet Portal Self Cleaning Slicker Brush
The The Pet Portal Self Cleaning Slicker Brush is a top pick because it's easy to use and gets the job done. With this essential slicker brush for Golden Retrievers, you can swipe through tangles and mats easier than ever before. It also works to get rid of any dander or dirt that might be trapped in your charming Goldie's coat.
Made with fine, soft and flexible bristles, this brush glides through tangles without worrying about hurting your dog. When you're done, simply push a button and clean off the hair. This is a significant benefit as nobody wants to struggle with pulling out loose hairs from their trusty brush!
For less than $30, you can get your hands on this handy, durable slicker brush that is guaranteed to get the job done.
---
Best De-Shedding: Furminator Undercoat Deshedding Tool
The Furminator Deshedding Tool is known throughout the Golden Retriever community. This must-have grooming tool is a little higher in cost than the other brushes on this list, but boy is it worth it. In as little as 10 minutes, you can get rid of unwanted hairs and keep your furniture and floor hair-free.
It is almost like this brush was designed with a Golden Retriever in mind. You will love the healthy and shiny coat this brush helps provide, and you'll love even more not having to deal with a hairy household.
If you own a Golden Retriever, the Furminator is highly recommended.
---
Best De-Matting: Hertzko Dematting Comb with Rake
If there is one thing you need to de-mat with ease, it's a comb and a rake. And if there is one company you can trust, it's Hertzko. If you're planning on purchasing the Hertzko slicker, you might as well tack on this handy tool. It's around $20 and can completely change the way you deal with your dog's overly shedding coat.
With the Hertzko Dematting Comb, you can feel confident that knots, tangles, and mats don't stand a chance. The comb works to gently remove loose hairs and disrupt tangles and mats in the hair, thanks to the sharp, finely rounded teeth. It's even useful on that stubborn undercoat, too!
Complete with a comfort grip handle and constructed with durable materials, you can feel confident using this tool on your Golden Retriever for many years to come.
---
Budget Slicker: UPSKY Dog Brush
Our cheapest choice on the list, but still handy and reliable, is the UPSKY Dog Brush. This dog brush is less than $10, which is great for anyone on a budget who still wants to take tip-top care of their furry best friend's coat.
This brush does it all. From loosening up mats and tangles to removing unwanted dirt and dander from your Goldie's coat, you and your dog will both be happy with the final result. Plus, the bristles of this brush are designed to ensure the utmost comfort and relaxing, providing a gentle massage that your pal will adore.
What's more alluring about this product is the ease with which you can clean it. All you need to do is press the button, and the hair can be quickly and easily removed from the brush. This saves not only time and energy but prolongs the life of your dog brush for extended use well into his adult and elderly years.
Made with fine and curved bristles, you can rest assured that this dog brush is gentle on the skin, but still able to handle the stubborn undercoat without any scratches or pain. Enjoy a soft and ergonomic handle that will leave you satisfied when you're done brushing day in and day out.
Best Puppy Brushes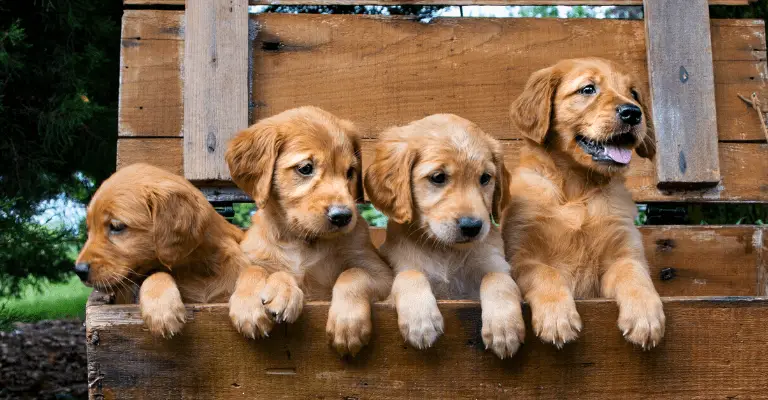 Your Golden Retriever puppy isn't going to start off with too much hair, but he will start growing some hairs around the age of 3 months (although some may take even longer). They start off with 'feathering,' which isn't as stubborn or thick as the double coat. However, as they grow older, the Golden Retriever will grow more hairs that eventually result in the adult double coat.
It's essential to take care of your pup's hair just as much as it is important for your adult dog. Even during the feathering stages, you must make sure that no unwanted mats and tangles are formed. Keeping your dog's hair nice and neat from the moment it starts to grow will help his coat to grow in strength and remain healthy.
We have now come up with a short list of the top 2 brushes to consider when raising a Golden Retriever puppy. Let's take a look:
Best Brush For Puppies: Hertzko Soft Dog Brush
When you're dealing with a puppy Golden Retriever who is feathering or just barely growing in his hair, you want to err on the gentle side- and that's why the Hertzko Soft Pet Brush for Dogs gets our highest recommendation. By now, you're probably aware that Hertzko has put out some incredible grooming tools, and this is another one of those top-notch tools.
The Hertzko Soft Pet Brush, boasting 800+ positive reviews on Amazon, is the ideal brush to remove any loose hairs or furs. And while it's incredibly soft, it can still tackle through any types of tangles or mats that stand in its way. Aside from that, the brush also ensures that there is no unwanted dirt or dander leftover.
You can feel confident you will get a great brush thanks to the soft and gentle bristles, complete with rounded ends. This keeps your puppy from being scratched or hurt during the brushing period, which will help him learn to love being brushed- which is something that will certainly help you in the future!
Runner Up: Pets & Goods Dog Grooming Brush
If you're looking for an excellent grooming tool you can use in the bath, then this might be precisely what you have been waiting for. This brush from Pets & Goods is specifically designed to be used during bathtime and will pair up with your favorite pet shampoo. We recommend starting this grooming tool when he is a puppy so that he can become accustomed to it.  But you can continue to use this brush well into adulthood.
For less than $10, you can have an excellent brush that revs up bathtime and keeps your dog looking and feeling great. The rubber grooming brush ensures that any leftover and loose hairs are gently removed, while dust and dirt don't stand a chance. Thanks to the soft nubs of this rubber brush, your pet feels massaged and relaxed in the tub.
This brush is also super compact and easy to use, which makes it all the handier to have near the dog bath. Completed with a top handle, you can keep a good grip on the tool- even if your dog starts slipping and sliding and having some fun in the water!
Understanding Golden Retriever's Coat Type
Golden Retrievers have a thick, double-layered coat that sheds heavily twice a year. Their coat is water-resistant and requires regular brushing to maintain its health and shine. The undercoat is soft and dense, while the topcoat is longer and coarser. Golden Retrievers also have feathering on their legs, tail, and chest. It's important to use a brush that can reach through the topcoat and into the undercoat to remove loose hair and prevent matting.
How Often Should You Groom a Golden Retriever?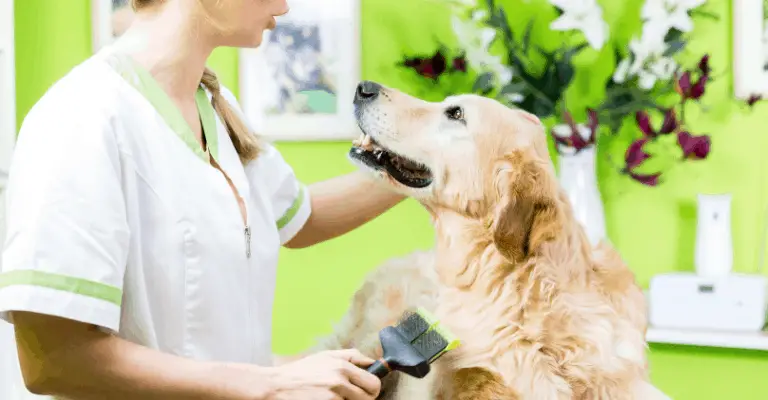 Some breeds, such as the Doberman Pinscher and the Great Dane, require very little grooming, but your Golden Retriever is not one of them. Golden Retrievers require ample amounts of grooming. Frequent grooming will not only make sure that his hair doesn't get matted up or tangled but also keeps shedding at bay.
So how often should he be groomed? You should brush your Golden Retriever's coat at least three times a week, but daily brushing is ideal.  While this sounds excessive, you might be motivated by knowing that there will be less hair on your floor in the long run.
Your Golden Retriever should also be professionally groomed a few times a year. While you can do your part at home to keep the coat in line, it will always be beneficial to have your pet professionally groomed from time to time. These professionals will know how to handle your pet's hair and ensure that extra, loose hairs are taken care of, and he comes out looking revitalized.
Factors to Consider When Choosing a Dog Brush
When choosing a dog brush for your Golden Retriever, there are several factors to consider. Firstly, you should choose a brush that is appropriate for your dog's coat type. For Golden Retrievers, slicker brushes, pin brushes, and undercoat rakes are all good options. You should also consider the size of the brush, as well as the length and thickness of the bristles. Another important factor to consider is your dog's temperament, as some dogs may be more sensitive to certain types of brushes.
Tips for Keeping Your Dog's Coat Healthy and Shiny
To keep your Golden Retriever's coat healthy and shiny, it's important to brush them regularly. Ideally, you should brush your dog every day to prevent matting and to remove loose hair. You should also give your dog regular baths to keep their coat clean and free of dirt and debris. When brushing your dog, be gentle and avoid pulling or tugging on their hair. You should also use a detangling spray or conditioner to make brushing easier and more comfortable for your dog.
Common Mistakes to Avoid When Brushing Your Dog
One common mistake to avoid when brushing your Golden Retriever is using the wrong type of brush. For example, using a slicker brush on a dog with a short coat can cause skin irritation and discomfort. Another mistake to avoid is brushing too aggressively or pulling on your dog's hair. This can be painful for your dog and can cause them to associate brushing with negative experiences. Finally, it's important to avoid brushing your dog when their coat is wet, as this can cause matting and tangling.
What Brushes are Best for Grooming?
There are a lot of brushes on the market- so how can you know which one is best? Well, there are four different types of brushes that should be in your grooming inventory for your furry best friend. Let's take a look:
The most important brush in your treasure trove should be the slicker brush. This type of brush will help to ensure Goldie's hair stays neat and tangle-free while also helping to spread his natural oils throughout the coat, which keeps it healthy and shiny.
Remember, your Golden Retriever has two coats. His undercoat should be taken care of with a de-matting brush. This will help to get rid of any extra denser hairs in the undercoat while simultaneously eliminating tangles.
It says it all in the name: the de-shedder brush works to remove excessive hairs that would otherwise end up on the floor. Regular brushes have a tendency to miss these extra hairs, so having a de-shedder on hand will ensure that they are taken care of.
Combination brushes have two sides to take on any challenge. They are a great everyday brush to have to help your Golden Retriever stay neat and clean. With the duo brushes, you can handle harder areas like the undercoat or underneath the arms and legs, which tends to get matted easily.
Conclusion
Taking care of your Golden Retriever's coat is part of the wonders of owning this breed. They have thick double coats that require regular, if not daily, grooming. This ensures the coat is neat and tidy and decreases the amount of shedding.
Remember: the more grooming tools you have in your arsenal, the better off your Goldie's coat will be. This will also help with the mass amounts of shedding, especially during the spring and fall.
If you would like to learn more about your dog's coat, check out Golden Retriever Coat Care. We cover all you need to know about your dog's beautiful coat. You can also check out our article How to Bathe a Golden Retriever to see our tips on keeping your dog clean and beautiful.