There are many options when it comes to choosing the right crate for your dog. Take time to find a high-quality crate and pick one with characteristics that will fit best with your family and dog.  Read on to learn about each crate and how to identify which one will be best for your Golden Retriever.
The MidWest Homes Dog Crate is our top choice due to the combination of quality, features, and value. The fact you get a divider included allows you to use this for your 8 week old puppy all the way until they are full grown. This can also come in a two door version if you are looking to add more options. It is the perfect crate to use in raising a Golden Retriever.
Best Dog Crates
When looking for a dog crate for your Golden Retriever, be sure to find one that is sturdy, includes a divider, and is at least 42″ in order to comfortably fit a full size dog.
Here are some of the best options for you depending on your budget and what you are looking for in a crate.
Best Overall Dog Crate: MidWest Homes Dog Crate
The MidWest Homes Dog Crate has everything you need to raise your Golden Retriever. With the removable divider you can start your puppy out crate training and continue using this crate for the life of your dog.
The crate comes with an easy cleaning, durable floor pan that is perfect for any accidents, or to catch all the extra shedding that may fall. You also have the option to get this in the two door version as well.
The main difference in this dog crate and the AmazonBasics is that this one has much thicker and sturdier wire framing. Other than that they are very similar.
Key Features:
The bottom of the kennel contains a removable dog tray that bedding can be placed on
It breaks down quickly and becomes very compact (folds flat) for travel
Comes with dividers to accommodate a puppy
No tools required
The metal is very durable
One-year warranty
Moderate in price
---
Best Budget Crate: Petmate ProValu Dog Crate
If you are on a budget go with the Petmate ProValu Dog Crate. However, as of the writing of this article you would only save about $5 when purchasing this over the MidWest Homes Crate, so be sure to check prices.
As stated above, this crate is almost the same as the MidWest Homes crate, but it uses thinner wire. The wire is still adequate, so going with this crate is still a great option, but if you have the money, an upgrade is worth the small fee.
Key Features:
Slide bolt latches for safety
Folds Flat
Portable
Metal Framing
Comes with divider panels for a puppy
Removable plastic tray
Moderate in price
One-year warranty
---
Best Heavy Duty Crate: Haige Pet Heavy Duty Dog Crate
Although the Haige Pet Heavy Duty Dog Crate is pricier than the previous crates mentioned, there are some benefits to getting what you pay for. The Haige crate is made from heavy-duty stainless-steel with a non-toxic finish.
Key Features:
Anti-rust
One door with a locking caster
Heavy-duty non-toxic metal
3-5 minutes to assemble, hardware included
Removable trays under the crate, easy to clean
Comfortable for feet, 1-inch floor spacing
Three-year warranty
---
Best Decorative Crate: Merry Products Dog Crate
This Merry Products Dog Crate is a beautiful dog crate that would make an excellent feature for your home. It is designed to be comfortable for your Golden Retriever and look luxurious. This crate is made of wood veneer, but it is reinforced with durable powder coated black steel to make it breathable and sturdy.
Key Features:
Durability, built to last
Elegant design
Easy removable tray
Simple assembly
Three sizes to choose
---
Best Hard Travel Crate: Petmate Ruffmaxx Outdoor Crate
When you need to travel, the Petmate Ruffmaxx Outdoor Crate is a great option. It is large, durable, and has plenty of ventilation for your dog. This is also a great option for a second crate to keep around the house as it is so easy to move around. Keeping one in another room in the house allows your dog to have a place of seclusion.
Key Features:
Strong and dependable
Easy front door latch
Eco friendly
Made for travel
Well ventilated
---
Best Soft Travel Crate: AmazonBasics Premium Portable Crate
The AmazonBasics Premium Portable Crate is a must have for any dog owner. It is perfect for travel, for a spare crate, for camping, or to have in an extra room of the house. It folds down for easy, quick storage…and also includes a plush fleece-covered pet bed. Your dog will love this crate.
Key Features:
Includes plush fleece-covered pet bed
Easy storage
Well-ventilated with multiple screened panels
Pockets on the top and sides for storing treats, toys, and more
Many colors and sizes
What to Look For in a Crate
As mentioned previously, finding a crate with great reviews is not the only thing you want to base your decision on. A few other things you will want to consider when selecting a crate are the material, quality, cost, and primary use of the crate.
Use the information below to help you know which of these characteristics is essential for you and your dog.
Material
When considering the material of a crate, wire is the best choice for a Golden Retriever. Here are a few reasons why you might consider a wire crate:
Wire crates are durable
Easier to clean than other crates
Creates a comfortable environment for the dog
Allows the dog to see out of the crate easily
Breathable
For comfort, just place a blanket or pad in the bottom of a wire crate, and your dog will feel right at home.
Wire crates aren't the only crate options for Golden Retrievers. Plastic and wooden crates are also very popular.
Plastic crates are a good option for traveling and provide a cozy environment for the dog; however, they are not as breathable as a wire crate and can trap in more heat.
Wooden crates are breathable like wire crates; however, their durability can vary depending on how big of a chewer your dog is.
Soft, travel crates are another common type of crate. This material is not ideal for a Golden Retriever as a primary crate. However, they are a great option for a travel crate, or an extra around the house. They also provide a cozier environment for the dog, but can be a challenge to clean.
Quality
When looking for a dog crate, you want to find one that will last the entire lifespan of your dog. The material the crate is made from will play a significant role in its quality.  Wire and metal crates will last longer than wooden, fabric, and plastic ones. If your dog is a big chewer, go with a metal crate for more durability.
Cost
The cost can be a significant factor for some individuals when selecting a dog crate. As you browse through crate options, make sure you find one that is the quality and style you need, but fits within your budget. The price will sometimes, but not always, be a sign of quality. Typically, higher-priced crates are built sturdier and will last longer.
What Size of Crate for a Golden Retriever
Golden Retrievers will grow to be just over 20 inches in height and weigh between 60 and 75 pounds as adults. When selecting a crate for your Golden Retriever, make sure it is large enough to accommodate the dog's size.
For the average size Golden Retriever we recommend a 42″ crate. However, use the tips below to adjust for your dog.
How to Measure Your Dog for a Crate
Getting the right size of crate for your dog is very important. There needs to be enough room in the crate for the dog to be comfortable while standing and lying down, but not too much room that the dog feels unsafe. Do not eyeball the size of the crate when you make your purchase; instead, take the time to measure your dog correctly.
Follow the steps below to figure out what size of crate you need for your Golden Retriever:
When taking your measurements, make sure the dog is standing.
To measure the length: Measure starting at the tip of the nose extending to the base of the tail.
To measure the height: Measure from the top of the head down to the floor.

Keep in mind these measurement directions are for Golden Retrievers. If you have other dogs at home, the way you take the height measurement may vary.

Figure out the size of the crate: Using these measurements, add about 4 inches to each measurement to obtain the height and length of an ideal crate.
What Size of Crate for a Golden Retriever Puppy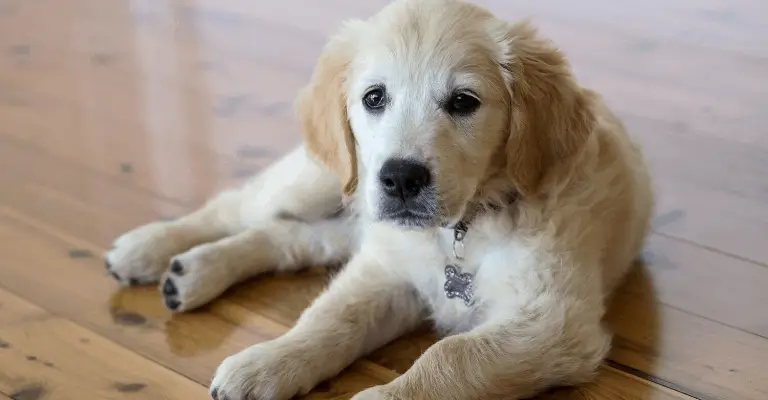 Most dog owners will bring home a puppy rather than a full-grown dog. To avoid buying multiple crates, look for ones that come with dividers so you can expand the crate as the dog grows. If you put a puppy in a large crate, there is a possibility that misbehavior, such as peeing or pooping in the crate, will occur because you've provided the puppy with the extra room to do their business.
Do your best to figure out how big your puppy will be by getting the measurements of its mother and father. For a female puppy, focus on the size of the mother and for a male, the father. Use the measurements of the parents to purchase an adult crate for your puppy. Again, make sure it has dividers that can temporarily make the crate smaller.
It is best to know the height and length of the puppy's parents to help you select the size of crate your puppy will need; however, if you only know their weight, that will be okay. Use this table to help you figure out the size of the crate you might need based on the weight of the parent:
| | |
| --- | --- |
| Parent's Weight | Crate Size (for length) |
| 40 – 70 lbs. | 36-inch crate |
| 70 – 90 lbs. | 42-inch crate |
| 90 – 110 lbs. | 48-inch crate |
How Long Should Your Golden Retriever Be in the Crate
Crates become a place of safety and security for a Golden Retriever when they are crate trained properly. However, because it is a small and confined space, you never want to leave your dog locked in a crate for too long. Puppies should only spend a maximum of 3 to 4 hours a day in their crate. This does not include overnight sleeping in the crate.
Use this table as a guideline for how long you should keep your dog in its crate during the day:
| | |
| --- | --- |
| Age of Golden Retriever | Length of Time in Crate |
| 9  to 10 Weeks Old | 30 Minutes to 1 Hour |
| 11 to 14 Weeks Old | 1 to 3 Hours |
| 15 to 16 Weeks Old | 3 to 4 Hours |
| 17+ Weeks Old | 4+ Hours |
It is also essential to make sure your Golden Retriever feels at home in its crate. Remember to associate the crate with positivity rather than punishment. This will help the crate training process and allow your dog to have a better night of rest.
How to Make a Crate More Comfortable for Your Dog
To properly crate train your dog and allow it to get a good night of rest, your dog will need to be comfortable. Sometimes buying the best-rated crate isn't enough.
Follow these suggestions below to help your Golden Retriever be more comfortable in its crate:
First and foremost, make sure the size of the crate is suitable for the size of your dog. If your retriever is still a puppy, use wall inserts to make the crate temporarily smaller.
Place bedding in the bottom of the crate for extra padding.
Cover the crate to help your dog feel more secure and be less disturbed when trying to sleep or relax. Being able to see and hear everything that is going on around the dog can make it more anxious.
Leave water in the crate.
Place toys or comfort items in the crate for your dog. When crate training, you can even leave a treat or two in there.
Make sure the smells associated with the crate are soothing to the dog.
Conclusion
Using a dog crate is an integral part of house training your Golden Retriever and providing it with a safe place to rest its head at night. Make a list of what characteristics you want in a dog crate, and then use the recommendations above to find one that will work best for your family.
Be sure to read our article How to Crate Train a Golden Retriever Puppy to learn more about crates and using them for potty training.