Finding the right dog bed for a Golden Retriever can be difficult. In this article we will help you find a high-quality bed that will be best for your dog's health and comfort. Read on to learn about each bed and identify which one is best for your Golden Retriever.
The PetFusion Ultimate Dog Bed is our top choice due to the combination of quality, features, and value. This bed is especially good for Golden Retrievers because the orthopedic memory foam base is beneficial to reduction in joint pain. This bed is exceptionally durable by having a thick top cover that is hard to tear.
Best Dog Beds for Golden Retrievers
When looking for a dog bed for your Golden Retriever, be sure to find one that is sturdy, includes good support for their joints, and has plenty of room for them to stretch out. The beds listed below include everything you are looking for in different categories and budgets.
Best Overall Dog Bed: PetFusion Ultimate Dog Bed
The PetFusion Ultimate Dog Bed provides a great comfortable sleep and rest for your Golden Retriever. This dog bed is affordable and ranges in price from $69.95-$239.95. We purchased the extra-large bed and our dog is able to fully stretch out and move around with plenty of room.
Its smart design includes a water and tear resistant cover along with a 3 year warranty on any part that is broken due to manufacturer defect. The base and bolsters provide optimal support and comfort by being soft and cushiony for your dog. The non-skid bottom will keep the bed in place and its neutral colors blend in well with any décor.
This bed is made of a 4 inch memory foam for superior overall comfort. It provides reduced joint pain and improved health for your Golden Retriever. Benefits of this bed are better mobility and more energy because of the great night's sleep it provides.
The memory foam is Certi-Pur-us which means it was made without using harsh chemicals and contains no mercury or lead. You will have the peace of mind that this bed is safe for your Golden Retriever.
 PetFusion Ultimate Dog Bed Key Features:
4 inch memory foam reduces joint pain and improves health, mobility, and energy
Water and tear resistant
Made with Certi-PUR-US memory foam
3 year warranty
Available in four sizes
Neutral colors to match any décor
Best Budget Bed: Furhaven Pet Dog Bed
If you are on more of a budget, then the Furhaven Pet Dog Bed is a great choice. This bed ranges from $20.99-$54.99. It is made of an egg crate orthopedic foam which helps cushion pressure points and distribute weight evenly while your Golden Retriever sleeps. The fluffy-filled bolsters provide great support for the neck, back, hips, and joints.
The surface of the bed is lined with ultra-plush faux fur and the bolsters are wrapped in easy-care micro suede. These soft-to-touch fabrics are hard for a dog to resist cuddling up for a good night's rest.
If your Golden Retriever is excessively teething, this may not be suitable for them. The cover is easier to tear than other choices of dog beds.
Furhaven Pet Dog Bed Key Features:
Made with egg crate orthopedic foam
Budget-friendly price
Available in five sizes
Comfortable fabrics
Available in four different colors
Best Chew Proof Dog Bed: Vehoo Elevated Dog Bed
The Vehoo Elevated Dog Bed is great for those Golden Retrievers that like to chew. It is made of a durable textiline mesh fabric that is breathable, waterproof, and heat resistant. This bed ranges in price from $30.99 to $44.99. The rustless aluminum frame and non-skid rubber feet offer strong stability for an energetic dog. All edges of the mesh are wrapped tightly inside the frame to prevent it of becoming chewed.
This dog bed is easy to clean by simply hosing it down or wiping with a wet towel. You will be able to get rid of pet hair, dirt, grime, or any other stains very easily.
Vehoo Elevated Dog Bed Key Features:
Off-The-Ground design
Rustless aluminum frame
Durable mesh fabric
Non-skid feet
Available in four sizes
Best Orthopedic Dog Bed: Better World Pets Orthopedic Dog Bed
The Better World Pets Orthopedic Dog Bed is great for those Golden Retrievers that need the extra support for their joints. This bed provides premium comfort by cushioning pressure points to relieve discomfort from arthritis, hip dysplasia, and more. It is 5" thick and filled with 100% shredded memory-foam fill that is densely packed to provide softness without losing firmness. This is a flexible bed that transports easily and keeps its shape nicely.
The cover is durable with a waterproof lining in case of accidents. The two-sided zipper closure makes it ,easily removable. It is machine-washable and is equipped with a non-skid bottom as well.
The price ranges from $40-$80. This dog bed offers exceptional value for the price.
Better World Orthopedic Dog Bed Key Features:
Great joint support
 100% memory foam fill
Waterproof lining
One year money back guarantee
Exceptional value
Best Indoor/Outdoor Dog Bed: Carhartt Duck Canvas Dog Bed
The Carhartt Canvas Duck Dog Bed is made of the same durable material used for the Carhartt jackets and bib overalls. It can withstand chomping, wet paws, and digging. This bed is machine washable and can be washed many times without losing its durability.
This bed has a water repellant coating to give it extra protection from the outdoor elements. It has triple-stitch seams and a sturdy brass zipper. It is a good size, yet, lightweight and easy to move around. The price for this bed is around $90.
Carhartt Canvas Duck Dog Bed Key Features:
Durable material
Water repellant coating
Can withstand wear and tear
Sturdy seams and zipper
Lightweight
Do I Need to Buy a Bed for My Golden Retriever?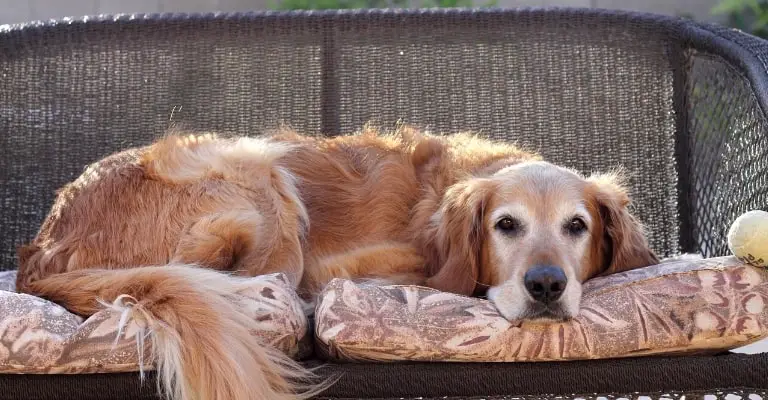 Since Golden Retrievers are a large breed that sheds, we recommend buying them a bed of their own. If you want to keep your furniture clean, giving them a space of their own will allow that to happen. They will know where to go while you are enjoying your living space. It is also cheaper to replace a dog bed than it is a sofa or other pieces of furniture.
Your dog deserves his/her private sleeping space because of the love and loyalty they give you. The dog bed becomes their territory that provides them with a peaceful rest. A dog bed gives them a sense of security and provides a warm and cozy place to rest.
Golden Retrievers are more susceptible to arthritis and hip dysplasia, therefore, having a comfortable place to provide the support they need is beneficial. Many of the beds we recommend are made of orthopedic foam which provides much needed cushioning and support for your beloved Golden Retriever.
How to Introduce Your Golden Retriever to a New Bed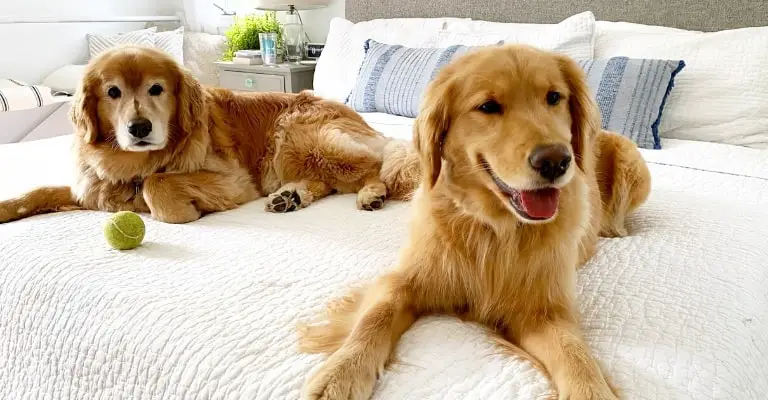 There are a few strategies you can use to introduce your Golden Retriever to their new bed. You can encourage them by placing a favorite toy or blanket in the bed. You can reward them with a treat when they lay down. Training them by saying "Go to their bed" or "Lay down" with a treat can also help when you want them to lay down and be calm.
If your Golden Retriever is used to sleeping in your bed, transitioning them to the dog bed will give you more space as they can take up a lot of space. Placing the bed next to yours will help this transition go quicker. Being close to you will help them feel relaxed and calm, especially if they are close enough for you to reach down and give them comfort.
Conclusion
Finding the right dog bed for your Golden Retriever can be a challenge. Choose one that is right for your dog as you know them best. Once you choose the bed that is right for your Golden Retriever, it is a good idea to give them the time to get used to their new space. Having a comfortable bed that provides support will help your dog have a happy and healthy life.
To view our other recommendations, be sure to check out our Recommended Products page. These are products that our veterinarians and writers use for their Golden Retrievers.